Updated
Starting March 1 and running until Aug 3rd in 1978 a series of classified ads appeared in the Ottawa Journal seeking donations of bicycles and appliances. The ads were for a repair and reclaim facility operated by the handicapped community. There was a phone number, but no address.1
· Fri, Mar 30, 1979 – Page 24 · The Ottawa Journal (Ottawa, Ontario, Canada) · Newspapers.com
Then on March 30th, 1979 in the Ottawa Journal there is one of those 'Spring Fix Up & Clean' type of articles which lists businesses that repair, restore, or dispose of various things. Heading the list was "The Recycle Store" at 367 Poulin Ave, Britannia Plaza.2
In April The Recycle Store is advertised as offering a Bicycle Clinic at "Regina Community School", presumably care, repair and tune ups rather than bicycle riding or safety.3
No more is heard of them until an ad for "Line 1000" appears in July. Line 1000 is described as a job placement agency for the handicapped, with The Recycle Store listed as one of their sponsors, and one Douglas Grant as the Manager.4
Then in Sept there are ads for a Store Manager. The mailing address for applications is the same as the one that had been listed for donations a year before rather than the Poulin Ave address.5
In Feb 1980 The Recycle Store is mentioned as assisting The Projectors of Lagado Theatre Company in providing elements for their sets.6
In April there is another bicycle clinic 7, and then a virtual carbon copy of the previous year's "Spring Fix Up & Clean" 8, after which The Recycle Store completely disappears except for two more mentions.
The first is a mention in the naturalist magazine 'Trail and Landscape' in 1987.9 The article in question is another of these 'what to do with your garbage' articles. However, this article says that the store is now at Lincoln Fields. Did they really move to Lincoln Fields, or did someone simply confuse Britannia Plaza with Lincoln Fields?
Addendum: Ads in the Ottawa Citizen from 1988 11 and 1991 12 list The Recycle Store as a store in Lincoln Fields. It is mentioned again in Oct 1991 in another of those "where to take it" articles.
The last mention of the Store is a 1993 UN report "Improving the quality of life of the elderly and disabled people in human settlements." 10 It states:
"The Recycle Store is an example of an affirmative industry. A non-profit corporation, the Recycle Store started with a grant from the Canada Employment and Immigration Commission in 1978 and has been self-supporting since 1981. Employment is provided at the warehouse where appliances, bicycles and wheelchairs are repaired or overhauled and at a retail outlet which provides jobs in sales, marketing, display and bookkeeping. The majority of employees are disabled or experience various barriers to being competitively employed."
The article mentions both a warehouse and the store, both apparently still fully operational in at least 1991 or 1992, whenever the report's research was done.
What goes around, comes around
So what happened to The Recycle Store? Only a few years later "Recycle Cycles" would open on Nelson St, apparently to fill a void in Ottawa; ie The Recycle Store appears to have disappeared by the mid-1990s.
More recently Cycle Salvation (partnered with Recycles) and Right Bike have become active, both providing opportunities to populations who face particular employment challenges by restoring bicycles and teaching bicycle mechanics.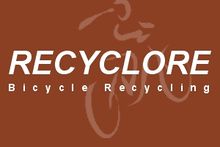 Of course in 2012 Recyclore moved to Britannia, bringing back bicycle restoration and sales to the neighbourhood, with the added dimension of a DIY publicly accessible shop full of tools for bike repair and maintenance.
Clearly the need and opportunity for an agency like The Recycle Store were still here in Ottawa, so what happened to it?
Anyone?
1 The Ottawa Journal, Ottawa, Canada, Recycle Store 1978
2 The Ottawa Journal, Ottawa, Canada, Friday, March 30, 1979
3 The Ottawa Journal, Ottawa, Canada, Monday, April 16, 1979
4 The Ottawa Journal, Ottawa, Canada, Saturday, July 14, 1979
5 The Ottawa Journal, Ottawa, Canada, Saturday, September 29, 1979
6 The Ottawa Journal, Ottawa, Canada, Saturday, February 2, 1980
7 The Ottawa Journal, Ottawa, Canada, Tuesday, April 1, 1980
8 The Ottawa Journal, Ottawa, Canada, Friday, April 18, 1980
9   More Garbage, Trail & landscape Vol 21(1) pg 10
10 "Improving the quality of life of the elderly and disabled people in human settlements." 1993 United Nations Report, pg 209
11 The Ottawa Citizen, Ottawa, Canada, Tuesday, April 26, 1988
12 The Ottawa Citizen Ottawa Canada Tuesday, July 2, 1991
13 The Ottawa Citizen Ottawa Canada October 19, 1991